Note: the following is from The Presteblog, reposted here with permission.
Wednesday's White House announcement about Foxconn coming to Wisconsin brought with it predictable complaints from the Wisconsin left, which I have read so you don't have to. (Warning: Hypocrisies ahead.)
First, Democratic Party of Wisconsin Chair (because no one else wants the job) Martha Laning:
"I welcome new business and jobs to Wisconsin. After six years of seeing job creation promises go unfulfilled and watching major corporations shut down factories or move jobs elsewhere, it's great to see Democrats like Sen. Tammy Baldwin and Rep. Mark Pocan encouraging new economic activity in the southeastern Wisconsin. 

"Democrats are laser focused on expanding the middle class and giving every Wisconsinite the opportunity to succeed and achieve the American Dream. But in order to have an economy that works for all us – not just the millionaires and billionaires – state-subsidized private sector jobs need to be a good investment that offers a living wage and ensures safe working conditions.

"While we are all thrilled at the prospect of new jobs coming to the state, it is entirely reasonable to be cautious of a scandal-plagued job creation agency handing over taxpayer funds to foreign investors that could potentially leave Wisconsinites with the bill decades into the future."
Note that the statement includes no examples of what Baldwin and Pocan (whose district doesn't include "the southeastern Wisconsin"; that would be the House district of Speaker of the House Paul Ryan) have done to encourage new economic activity.
Sen. Chris Larson (D–Milwaukee)
"It is with good reason that Wisconsinites are not yet willing to blindly put their faith, and money, in a feeble jobs promise. We've been deceived by Walker's rose-tinted glasses before.


"Since taking office, Walker has left a trail of broken promises. His pattern of deception has resulted in our hard-earned tax dollars being handed over to campaign donors and companies that outsource, as well as some of the biggest tax breaks going to the richest people in the state, some of whom have used tax loopholes to avoid paying any state income tax for years.


"Our neighbors care about making sure this is a good deal for everyone in Wisconsin. Any move for Foxconn to locate in Wisconsin must also fit with the spirit of our great state. We look to partner with companies that will respect our state's shared lands and waters. We should reward companies that pay our neighbors a living wage and treat them fairly. If they expect special treatment, they need to have a long-term commitment to our state so we know they won't abandon Wisconsin as soon as a new enticement goes on the table from somewhere else.


"Wisconsin leaders should not commit to corporate welfare or anything that carves out special exceptions in our laws if it will unfairly hurt local businesses already in our state. Every small-business owner knows: with a billion dollar pinky swear, the devil is always in the details.


"Too many people in our state are struggling in low-wage jobs and living in fear that any day the security of health care could be pulled out from under them. They deserve leaders who will be looking out for their future.


"We demand fairness, and that's what we'll be looking for in this deal."
Based on this Foxconn should feel free to delete any job applicants with Milwaukee home addresses. Larson's job creation record is nonexistent.
Sen. Jennifer Shilling (D–La Crosse):
"While I welcome new businesses to the state, I want to ensure any state-subsidized private sector jobs offer a living wage and safe working conditions. As we look to expand Wisconsin's middle class, Democrats will continue to focus on boosting small businesses, strengthening workplace protections and encouraging more locally-grown start-up companies.

"Communities and small businesses that could be at a competitive disadvantage deserve full transparency when it comes to Gov. Walker's proposed tax breaks for Taiwanese investors. I am cautious of committing taxpayers to decades of economic costs and liabilities.

"The bottom line is this company has a concerning track record of big announcements with little follow through. Given the lack of details, I'm skeptical about this announcement and we will have to see if there is a legislative appetite for a $1 to $3 billion corporate welfare package."

Numerous media outlets have highlighted a pattern of Foxconn's misleading job claims and broken promises on economic development. The Washington Post detailed a series of "splashy jobs announcements" from Foxconn that promised thousands of jobs and billions in investments that never quite materialized in Pennsylvania, Indonesia, India, Vietnam and Brazil. With declining wages across Wisconsin and a stagnant economy, Gov. Walker has yet to produce the 250,000 jobs he promised to create by 2015.
Even the Democrats know they're (accurately) viewed as anti-business when a news release starts with "While I welcome new businesses to the state …"
Assembly Minority Leader Peter Barca (D–Kenosha), as quoted by The Capital Times:
Assembly Minority Leader Peter Barca, D-Kenosha, said he met with Foxxconn representatives bout a week-and-a-half ago, and the company is looking at sites in Kenosha, Racine and Milwaukee counties.
It's an "exciting opportunity" for southeastern Wisconsin, Barca said, but he wants to make sure the plant provides "long-term, family-supporting job opportunities."
That must have just killed Barca to use the words "exciting opportunity." (Barca was in the U.S. Small Business Administration, but as a political appointee, not someone who did important work.) Along with passing on this:
Democrat toadies Zero Wisconsin Now (boldface theirs):
One expert has described Foxconn's approach to negotiations over public subsidies for their operations saying, "they extract everything they can."

The company's track record promising major investments in facilities and gaudy numbers of jobs versus the reality of what they do, or don't, is well documented in both the U.S. and globally. In addition, serious questions have been raised about the labor practices of a corporation that installed "suicide nets" outside its Chinese operation after over a dozen employees killed themselves or attempted to by leaping from a plant rooftop.

A deal of this magnitude could rank as one of the largest ever public subsidies to lure a private corporation to a state. It demands significant scrutiny and prompt, detailed answers to questions including:

What specific incentives are being proposed for Foxconn, what government entities will be involved in providing them and what are the proposed funding sources? Will legislation be necessary at the federal, state and local levels?

What, if any, new revenue does the state expect to collect from this project in exchange for a multi-billion dollar public subsidy?

What, if any, financial commitments will Foxconn make in exchange for public subsidies? Will they provide funding for worker training, infrastructure upgrades or other community projects?

How many Wisconsin residents will be employed directly, full time by Foxconn at the proposed Wisconsin facility upon its completion versus temporary workers, workers from other states, international employees, and jobs being projected that are actually ancillary to the manufacturing plant operation?

What types of jobs will they be and what will they pay?

What assurances will be provided on labor conditions and benefit? Will the jobs offer comprehensive health care and retirement benefits? Sick time? Vacation? Family and medical leave? Will employees be allowed to unionize should they so choose?

Is this facility being proposed because of a commitment to investing and expanding operation in the U.S. or as part of a strategy to evade potential restrictions or tariffs on foreign based manufacturers of goods imported to the U.S.?

What are the benchmarks Foxconn must meet in order to receive subsidies and what, if any, clawback provisions are in place to recover expenditures of tax dollars if they are not met?

Will access to records associated with the negotiations be denied by Gov. Walker and others?

Are there assurances of environmental or other regulatory exemptions upon which the Wisconsin Foxconn project is based?

Most importantly: Why was this done in 100 percent secrecy?
Zero's last question is the easiest: Given that we knew this was happening before it was officially announced, it wasn't done in 100 percent secrecy. These details are negotiated away from public view — whether negotiated by Republicans, Democrats or nonpartisan politicians — because the business demands it. If state or local spending is involved, then the Legislature and county and/or municipal boards will have to approve them, and that won't be in secret.
About tax credits, Scott Bauer of the Associated Press reports via tweet:
Foxconn tax credits are tied to performance, no credits given if Foxconn fails to invest capital or create jobs
The other questions … well, I've already asked the pertinent questions well before those trying to deflate partisan disadvantage. I have more objectivity about people I vote for than Democrats seem to have.
This GIF posted by a Facebook Friend sums up what Wisconsin Democrats really think: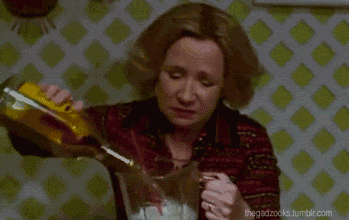 As for the varied criticisms of the Walker approach to economic development, the Department of Workforce Development released this Wednesday afternoon:
The Department of Workforce Development (DWD) today released the U.S Bureau of Labor Statistics (BLS) estimates of unemployment and employment statistics for metro areas, major cities, and counties in Wisconsin.  The estimates include updates for May 2017 and the preliminary estimates for June 2017. These numbers are not seasonally adjusted. In brief, the estimates showed: 

Metropolitan Statistical Areas: Preliminary June 2017 unemployment rates decreased in all areas when compared over the year to June 2016. The largest 12-month decline was 1.3 percent in Racine. The rates ranged from 2.7 percent in Madison to 4.2 percent in Racine. 
Municipalities: Preliminary June 2017 rates decreased in the state's 32 largest municipalities when compared over the year to June 2016. The latest rates ranged from 2.7 percent in Fitchburg, Madison, and Sun Prairie to 5.2 percent in Beloit. 
Counties: Preliminary June 2017 rates decreased in all 72 counties when compared over the year to June 2016 rates. The largest over the year decline was 2.4 percent in Menominee county. The latest rates ranged from 2.6 percent in Dane and Lafayette to 6.5 percent in Menominee.

The release of the June 2017 local rates follows last week's release of BLS monthly estimates showing a preliminary seasonally adjusted unemployment rate of 3.1 percent in June 2017, maintaining its lowest rate since October 1999. Data also showed both total labor force and employment in Wisconsin remained at all-time highs in June.

Other indicators of the state of Wisconsin's economy include:

Wisconsin's labor force participation rate of 68.9 percent continues to outpace the national rate of 62.8 percent.

Wisconsin's total labor force and employment remain at all-time highs.

Wisconsin's seasonally adjusted employment change of 76,500 year over year is the largest since July 1995.

Wisconsin's 3.1 percent unemployment rate for June maintains the lowest rate since October 1999.
I have indicated skepticism in the past with government-generated unemployment figures. The unemployment rate in this state is certainly higher than these numbers would have you believe. However, so is every other state's and the nation's unemployment numbers, so as measured by how the feds measure everyone, Wisconsin's unemployment rate is still lower than most states and the nation as a whole, and that has been the case for the entire Walker administration.
A Walker news release said Foxconn's $10 billion investment will create, it claims, 13,000 jobs, not counting jobs created by companies supplying Foxconn in LCD Valley, with, according to The Capital Times, $348 million in state and local tax revenues.
It is unfortunate that states and communities must give various incentives to get businesses to locate there. That is the fault of government that is too large, does too much and taxes too much. It's also true that 100 employers of 100 employees each is preferable to one 10,000-job employer, because when that employer gets a cold, everyone there will get chills. But in our imperfect world, having that employer is better than not having that employer. Democrats know how to grow government, not the economy and not businesses.
The average household income in this state is $66,432, and the median household income is $52,893. The stated average wage of Foxconn jobs will equal the median household income of this state. (Democratic complaints about income inequality in 5 … 4 … 3 …) Those jobs are reportedly costing $100,000 in tax incentives, which would be made up in two years. ("Tax incentives" are another way of saying "cutting taxes you should not have to pay anyway.") Democrats bitch, as you've already read, about insufficient jobs and pay and all that, and then bitch when an employer of vast size comes to the state, since they had nothing to do with that happening. If a Democrat was governor, you would not have read a single word you previously read from Laning, Larson, Shilling or Scot Zero. If only they were unemployed.
Please follow and like us: